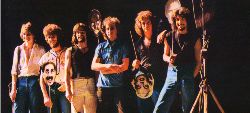 NEWS:
A trusted associate of Dr Hindsight has managed to get his hands on original master tapes, and they are in fair shape. Check out the 'REMIX' menu option.
MusikLaden videos (good quality):
Somebody Somewhere Knows the Truth
Video from 1978 (medium quality):
'The Movies Rock Band at The Marquee Club London'
Check out the Gallery for new photos from New York!

Time has passed.
Record companies, agents, publishers, have come and gone. Tapes have been locked away, fished out again, and found to be not much more than rubble. The Movies come from a time before CD. What is left?
This archive site presents Movies material from a limited range of sources. Others may have better versions, and perhaps in time we might inherit some of them. Meanwhile we have engaged the renowned archaeologist Dr Hindsight to restore what he can. The material is accessible via menu options at the top of this page. Check out the REMIX option for some (recently acquired) studio-quality tracks.
Apart from REMIX, we are looking mainly at old vinyl and a bunch of tapes, some with unreleased material, some live tracks and scraps of video. The vinyl (especially the first two albums) is in bad shape. We have tried to remove the noise, but there's not much you can do about that crack in the one copy you have, made by some twit with a beer glass in 1982. The condition of the tapes is often bad. Tape of this period is known to drop oxide, for lubricants to wear out, and for the sound gradually to turn to mud.
All material on this site is published by members of the band and copyright-holders. We assume no objection to the limited Internet publication of this material as an aid to research, free of charge. If there is a legally substantial objection to such publication of any of this material then it will be replaced by an explanatory note and removed from the site.
This material is not simply given away for you to do with what you like. Copyright remains with the copyright holders, and where that is unclear it defaults to a member or members of the band who took part in the recording of the work. The material is made available for your personal use only, and is not to be further copied nor by any means transferred to a third party. You should understand that - and we assume your agreement - before you download from this site. If we detect infringement of that rule then we will have to make this site Copyright Holders Only.
Now, to go back in Time...